Regular price
Sale price
$54.90 USD
Unit price
per
Sale
Sold out

About this item
24/7 Fitness Monitoring:

 

Know your body better by using Morepro smart watch all day fitness monitoring. Get heart rate, blood pressure and blood oxygen on your wrist. (Only for encouraging a healthy lifestyle, not for medical use)

Advanced Sleep Monitor: Track your awake, light, and deep sleep time and gauge blood oxygen saturation levels during the night.

Workouts On-Screen:

 

Check daily workout clearly on a 1.7'' HD bright color display. Create customized fitness schedules and goals based on daily workout data such as steps, distance, and calories provided by the FITVII fitness tracker so you can make the most of your workouts.
Activity Tracking:

 

Find interest to keep moving with more than 20 sports modes, including walking, running, cycling, climbing, swimming, yoga and many more. FITVII activity tracker is ip68 waterproof.
Smart Notification:

 

Get vibration alerts for all notifications, including phone calls, texts, and social media app alerts. Never miss a message with smart notifications delivered right to your wrist. You also can check real-time weather on the smartwatch.
Practical Functions:

 

FITVII smartwatch is a life assistant. Many valuable functions include alarm clocks, water drinking reminder, sedentary reminder, stopwatches, timers, music control, find your phone, customized watch face, etc.
Long-Lasting Battery & Compatibility:

 

Go longer on a single charge with a convenient USB magnetic charger. Enjoy 7-10 days of battery life—no need to charge it frequently during business trips or travel. The smartwatches are compatible with Android 5 / iOS 9.0 or above smartphones. (Not for PC or tablet)
Details
24-hour automatic blood pressure monitoring, automatically upload the data to the "Fitcloudpro" APP every five minutes, and adjust your health according to the data suggestions

With advanced sensors, the watch can detect your blood pressure, and at the same time record the data in its companion app Fitcloudpro (please scan the QR code in the manual to download the app), helping you better understand the changes in your body. Note the data cannot be used as a medical grade test.
The FitVII H56 smartwatch will automatically track your real-time heart rate and Spo2 to help you understand your physical fitness. H56 has a precise dynamic heart rate sensor, which automatically measures your heart rate every 100 milliseconds, and automatically uploads the data to the FitCloudPro APP every minute.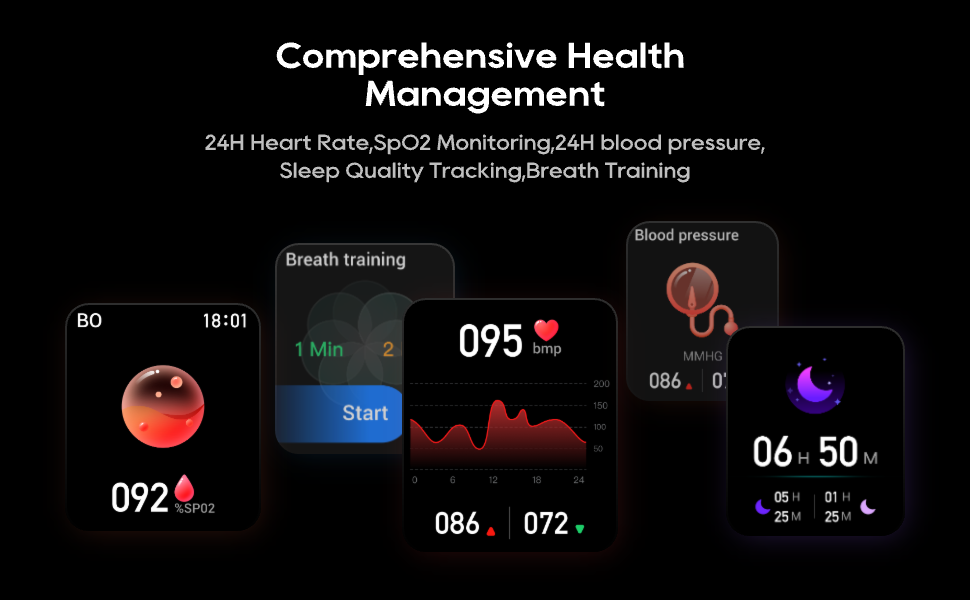 Truly understand your sleep habits for well-being. The nap can also be easily monitored, Monitor your sleep status and sleep pattern silently and automatically. 
Say goodbye to the trouble of looking up your phone to check the weather when you wake up, just lift your wrist to check the watch, and the weather is clear at a glance.
There are 20 sports tracking watches that support 20 sports modes such as running, cycling, and mountain climbing. You can freely choose your favorite sports according to the weather. Whether you are swimming in the pool or sweating on the court, it can accompany you to enjoy the fun of sports.
When exercising, you can control the music playback on your mobile phone through the watch, so that the exercise is no longer monotonous.
Long last battery. Get up to 7+ days of typical usage or 15+ days of standby time with one full charge. (varies with use and other factors)



 

All features 
Female Health reminder
24-hour continuous heart rate monitoring
Blood oxygen monitoring
HRV monitoring and analysis
DIY watch face
Activity tracker and exercise suggestion(Pedometer, Calories, Miles)
Accurate sleep monitoring
Exercise blood pressure
20 Sport models; (enter the motor pattern, and Long press 3 seconds to activate. When Start doing exercise, monitor the heart rate in real-time, steps, calorie consumption, and mileage from start to finish.)
Alarm clock remind (no noise wake-up, 20 sets of event reminder ICONS)
Call and SMS alert function; (including 

Facebook, WhatsApp, Line, Email

, WeChat, QQ, and other social software)
Remote control taking photos (by rotating the wrist and Touch screen of the bracelet)
Countdown, Stopwatch function
Function switch(Common switch: Heart rate, Blood pressure monitoring)
Call reminder,mute,rejection
Package Lists
1*H56 Smartwatch
1*H56 Charger
1*H56 User Manual
OUR GUARANTEE
We truly believe we carry some of the most innovative products in the world, and we want to make sure we back that up with a risk-free ironclad 90-day guarantee.
We have  Email Support. Please contact us if you need assistance.
Share
I turn the ringer off on my phone but the watch still vibrates when the phone rings. Turns out the watch is not that smart after all.
Pros: ComfortableLightweightSecures on wrist so doesn't pop off like othersFree watch face background designsCustomizable appsEasy app to install on phoneRead text messagesRead app notificationsCaller ID when you get a callCan silence or ignore call with just a press of a buttonCharges quicklyTracks just about anything you needAlexa feature is super easy to useSilent alarmGives weather (I can view up to 7 day forcast)Controls music (Spotify at least)Sleep monitoringCons:Product specific charger....not much else bad to say
Gostei muito. Vem na caixa original que ?? uma gra?a de linda...O rel??gio ?? TOP. A caixa dele tem as laterais metalizadas em grafite deixando mais elegante. A bateria dura em m??dia 9 dias com todas as fun??es ativadas e brilho intermedi??rio.O visor ?? realmente muito bonito. Tela realmente ?? amoled.Todo em portugu??s.Muitas fun??es. N?o consegui usar todas. Pra quem faz exerc??cios ?? excelente.Ele tem uma fun??o de encontrar o celular q me pareceu muito ??til j?? que vivo perdendo o celular dentro de casa, kkkkkk. Mas, se estiver longe do aparelho ele n?o consegue. Fica localizando e nunca acha. S?? consegue se tiver no raio de 1m +- . A?? ele dispara um sinal sonoro no celular. Funciona, mas s?? se perto mesmo.Tem ox??metro. Funciona. ??s vezes d?? erro. O q percebi ?? q se vc pressionar o rel??gio como se a pulseira tivesse apertada e n?o mexer o bra?o conforme ele solicita no visor, a chance de aferir ?? maior.App Zepp no celular onde vc consegue controlar tudo.Vi alguns videos no You tube falando que d?? pra atender liga??o, mas n?o atende.Conectou com minha Alexa e recebe comandos de voz pra executar nela mas precisa dizer por exemplo pra tocar tal m??sica no ECHO DOT, sen?o n?o vai. No come?o n?o conectou, depois foi.Conecta por Bluetooth com o celular.?? a prova d??gua sim. J?? at?? entrei na piscina e n?o tive problemas.Achei q tem poucos fundo de rel??gio pra escolher. Pode ser q isso melhore na atualiza??o.Tbm acho um pouco frustrante alguns momentos em q olho pro rel??gio ( viro o bra?o na minha dire??o) e ele n?o acende o visor. Levanto o bra?o de novo e ??s vezes, nada. Ou tenho q chacoalhar o bra?o, ou tenho q acionar o pino. Tirando isso, sem problemas. Amei.N?o me deu alergias como vi em alguns coment??rios, mas achei a pulseira simples, por??m, j?? substitu?? por outra vers?o f??cil de encontrar por outros vendedores.Uma preocupa??o que tenho ?? com a caixa dele. Um dia, li um coment??rio dizendo que arrebentou um dos quatro pinos q seguram a pulseira. Foi a?? que parei pra observar q realmente parece mais fr??gil. Ent?o ?? bom tomar cuidado. Mas, como n?o pratico nada que possa pux??-lo a ponto de quebrar, acho vi??vel pelo custo benef??cio.Espero ter ajudado vc.
Great 2atch but use a third party app
I had an morepro Bip for several years and it served me well until the watch screen fell out one night. I bought this as a replacement as I had gotten used to the vibration alarm function. It does very well. However, I wish I had more watchface options. I had downloaded a third party app for watch faces on the Bip and it was amazing. The third-party apps for the H56 mini do not work well and they even have poor selections. My only real criticism so far.
View full details